Hi this is me! (First site I ever made back in 1998 left it up for humorous reasons)
I now have been developing high end database driven sites for large companies: paradeofhomes.org, batconline.org, vikesfan.com, jms-homes.com, realmealdeals.com, chooseconcreate.com, armofmn.com, iexposure.com,abcbus.com, and many more.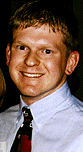 I am(WAS in 1998) a Multimedia/Computer Graphic student in Minnesota. I hope to go on in either the broadcast design field or motion picture 3D animation. I will probably stay away from web page development for the time being until I get a little more knowledgeable on that as you can probably tell from this site but O'Well if you don't like LEAVE!
Well those of you that stuck around are probably either a friend of mine or else your just bored surf'in the net. Although the site needs a lot of work in it design aspects, it still might have some cool info, you might be interested in. It has a few funny pica of friends and this site will hopefully have the latest information on the local and national volleyball scene in the VOLLEYBALL ZONE and some inside info. about the WCW wrestling in the WCW Lenny Lane Home page.
---
Below are just a view pics or friends and good time we had together in the past few years.
Choose a category if you like or just scroll the page.
Wefest 96 ------ Wefest 97 ------- Ski trip 93 ------ Ski trip 94 ------Ski trip 95
Ski trip 96 ---- Cabin Party 94 ---- Hunting 96 ----All pics only
---
Misc. Pictures
My girlfriend (Tracee) & me, Tracee and her roomates,
My cousin (Stephanie) (Prom, Grad. Pic, and a couple of her Friends)
My uncle Lenny, and Steph, My Cousin Peter & his daughter Alex
My Mom & Pat at their wedding, The grooms men, The Brides Maids,
Trip to California '89 Cruise '92,
---
Wefest 95, Detroit Lakes, MN
Wefest 95, I am sorry to in form that my friend Dan and myself got a little to drunk and we lost his camera on on of are journey through all the camp grounds. So if you happen to find a camera that year, with some great shots of a lot of hot women, it his e@mail me.
---
Wefest '96
it seemed this Wefest was one of the drunkest.
Below are a few shots of the group that was camping at our site.
Jaa's like's to sleep at Wefest, along with satisfying his foot licking fetish. He also gets a quick shower in when it was storming.
Dan and Jason were so drunk, they were really helping each other out in this picture. Dan, Chris and Jason where having a great time in this shot.
This is what happens after a tough four days of hard core drinking!
We really enjoyed the watermelon we soaked in vodka for 2 days, even though Freeman never let it out of his hand until it was gone.
Tracee (my girlfriend) seemed to get a little sun, but her and Angie still look quite as ever in this shot. Those two have such white teeth, with these big smiles in this shot. Tracee gets prepared to try the beer bong.
Angie must have lost her motor skills and forgot how to chew properly in this shot, that's what alcohol with do to some people I guess. I even got into a little toosiroll action, while feeling the beer bong.
---
Wefest '97 here are a few classic shots of this eventful Wefest. Unfortunately we did not get the picture collection of Wefest 96 but here are a couple good ones. Of Jaa and Tim. Wipe out. Jaa was chasing Tim when his sandals failed.
---
Ski Trip '93 Colorado, CO! Attendees: Tim, Jaa, Chad, Myself Travel: road trip 17 hrs. Accommodations: Chad aunt & uncles house 4 nights, Hotel 1 night
This was a great trip, along with great skiing at A-Basin, Keystone, Copper, and Steamboat, we had a lot other rememberable stories from this trip. I got pulled over for reckless driving because the car stalled, we got wasted and went to the Black Sabbith concert in a limo.
Here are a few shots from this trip. We still can't find all the pictures.
---
Ski Trip '94 Breckenridge, CO Attendees: Tim, Jaa, Ray, Myself Travel: road trip 16 hrs. Accommodations: condo 4 days, Pictures for this trip are missing in action. But this year we stayed in a condo in Breckenridge. It was good skiing and a great time. Jaa dropped a gallon of milk while browsing in a gift shop, you had to be there, but milk was everywhere. Tim and I had to leave because we felt bad because we where laughing so hard. I got into a accident pulling out of the condo parking ramp.Opps.
---
Ski Trip '95 Reno, Nevada Attendees: Tracee, Dan, Cory, Myself Travel: fly Accommodations: Silver Legacy Hotel Reno (nice)
Unfortunately this year Jaa and Tim were unable to attend, So Tracee, Dan, Cory Reno, and Myself headed west to Reno Nevada. Tracee and myself were to only skiers in the group but it was a great trip. We skied the Tahoe's, Heavenly Valley, 1 day, O.K. skiing; awesome view. Squaw Valley, California, awesome skiing, Squaw is huge loved it. Here are some pica from this trip.
The hotel was a bit fancy but that didn't stop Dan from making sure he hand his beer.
In this shot Dan seems to have A href="problem with something. Here are The guys!
This trip started when Dan and Reno could not be found, so we thought we were going to miss the plane. Reno said that I had a gun in my pocket to the security at the medal detector at the airport so he ended up almost getting arrested. But after that everything was O.K. We ate one night at Planet Hollywood, and we got see all the actors hand prints and pick the ones that fit our hands.Take a look.
We also when to a old mining town one night, (Jamestown) that was fun we got a kick out of the career picking machine. Although Dan stuck with the love tester. Take a look.
---
Ski Trip '96 Jackson hole, WY Attendees: Tracee, Tim, Jen, Jon, Jaa, myself Travel: road trip 20 hrs. Accommodations: Holiday Inn, Jackson hole.
This was one of the best trips, it was all my best friends(shot of the GUYS) and we just had a great time. We stayed there over New Years and no better town then Jackson Hole. We skied four days and snowmobile 1 day. What a blast. Even though we had a couple accident with the sleds, take a look. Jaa stayed pretty save with his sled, it must have been his helmet.
One night we got a little carried away in the hot tub and turned it into a swimming pool.(maybe a little alcohol was involved). But it was fun. We sat in the hot tub for around 4 hours, while Tim, and Tracee where involved in a heated biology discussion with to other guys, Jen and myself who (the bio. geniuses we are) where not following the discussion very well just drank and drank and drank ect. We decided that if we had coloring books we would have been just fine. But thanks to Jen I'm set for the next biology discussion, she bought me A href="pack of color crayons and a Barney Color Book. (Thanks Jen maybe I will even share with you.) After the hot tub Tim decided to take a shower.
We also had a great time at the MANGY MOOSE BAR. Here are some of are good dance moves. Jen looks like she is barley hold Jaa up, I believe he had a little to much to drink. Tim decided he was going to join the band.
---
Cabin Party '94 We have had a ton of great times up at Tim's cabin over the years. These shots are all from one of the many parties we had up there. I hope to add some other picture from other times up there and also some video clips from Tim's Mom (MMMMMOMA) who enjoyed shooting her guests at the cabin on tape.
Here are a few shots from the cabin party. Tim and Jen they look so cute together. Dan and Freeman where there. I was there. Tim had a little trouble hit his brat with the ketchup, I think their is more on his hand.